Question: Can you talk a little about co-regulating and how we can help our toddlers move through their emotions? I find it challenging to manage my own emotions while assisting my son in gently managing his.
Answer from Olynda:
Thank you so much for asking this question!  What I love about this question is that it points at an incredibly important aspect of emotion coaching our little ones: that we have to do the work alongside them. To me, this is one of the most striking benefits of being a parent or caretaker of a child. Our children give us the strong inspiration to grow and learn in ways we might not have otherwise.  
There simply wasn't a lot of attention given to social and emotional learning when we adults were young children.  We know now that social and emotional learning are incredibly important to our child's wellbeing and success. We also know that the foundation of teaching our children to work with their emotions in a healthy way is our own ability to do that same work.  
So how do you learn that yourself? 
 The main invitation I would make is that you think of this work as an ongoing practice. Learning how to work with our emotions takes time, dedication and support. If this is an area of growth that is calling you (or that your child is calling you to) make time to find a practice or group that can support you. Letting your child know you are learning how to work with big feelings can be a powerful way to support them and yourself as you are learning. You can model and narrate what you are doing to find calm and work through your emotions. "I'm really angry right now. I am going to take ten big breaths and see if that helps me move some anger." This will work best when your child is not also upset. Your child will appreciate that you are learning alongside him. He'll see that you are working on the same skills he is working on.  
There are many ways to climb this "mountain"!  For me, a strong mindfulness and yoga practice has given me a life-long path towards self-awareness, presence and ability to breathe and move through difficult emotions.  My work on the mat and in my spiritual life has given me courage to be with hard emotions in a peaceful way.  It is the place where I grow the skills needed to self-regulate in those hard parenting moments. And I am still learning. I know that for many counseling is very helpful, and there are so many great books about working with emotions. I don't think there is a wrong way to grow your own ability to breathe and stay present, calm and loving. We just have to devote some time to finding a way that works for us. Maybe that is a 10 minute meditation a few times a week, maybe it is more involved than that. If we are doing that work on our own, then taking some deep breaths when our child is upset, remembering the bigger picture and supporting our child becomes easier.

-Olynda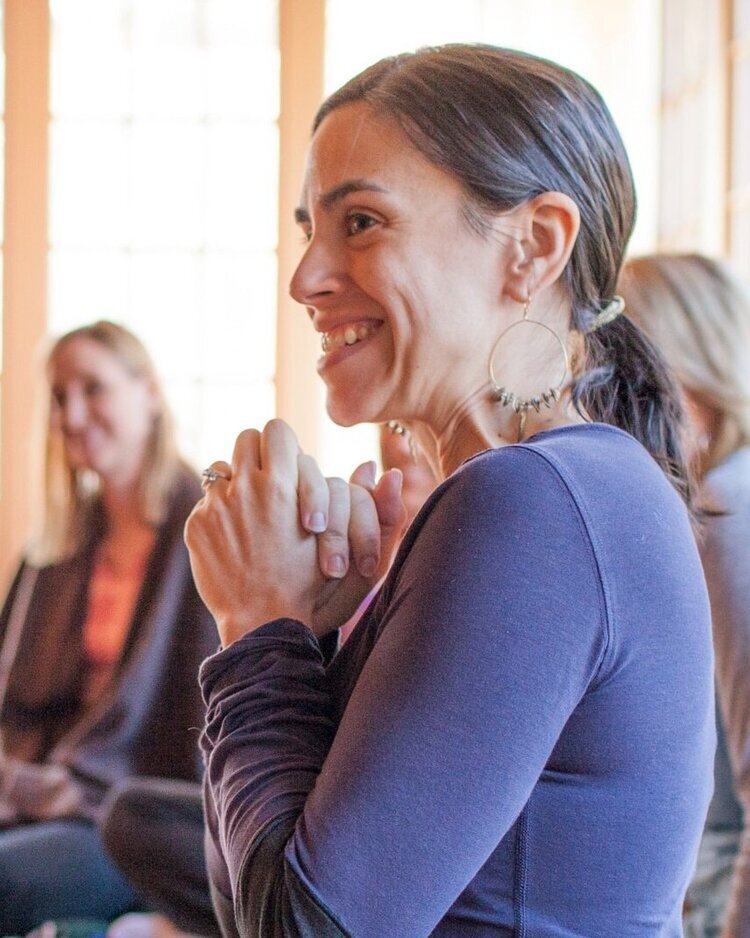 About Olynda
Olynda Smith is a Certified Montessori Early Childhood teacher, Simplicity Parenting Family Life Coach, Certified Yoga Teacher (RYT E-500) and Mother of two. Olynda has 15 years of experience working with young children and parents. She has a deep love of the Montessori method and an understanding of the philosophy and method honed by her many years spent as a Montessori teacher.
Olynda serves as the Early Childhood Education Coordinator for Peaceful Schools NC and she is the Education Director at Tiny Earth Toys. She brings to all of her work a rich background in different parenting styles, educational practices and most of all a deep respect for all parents and children. Several of Olynda's articles about work with children and yoga have appeared in Montessori Life Magazine. In all of her work, Olynda considers herself to be a "connection advocate" - helping people connect more deeply to themselves, each other and the planet.
Olynda lives in Durham, North Carolina with her husband, two young children and their goldfish Steev. She loves hiking, gardening, making herbal home remedies and curling up with a good book.